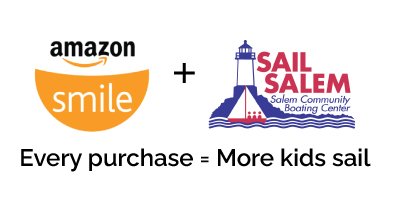 Help bring smiles to our sailors and wind in their sails.
Contribute to Sail Salem at no cost to you every time you shop on AmazonSmile!

What is AmazonSmile?
Amazon Smile is a simple way for you to support Sail Salem every time you shop, at no cost to you.
And How Do I Sign Up?

Go to
smile.amazon.com on your web browser or activate in the Amazon Shopping app on your phone.
Help Sail Salem! Shop AmazonSmile!

When you shop at AmazonSmile, you'll find the same prices, selection and experience as Amazon.com,
with the added benefit that AmazonSmile will donate 0.5% of your eligible purchases to Sail Salem.
Support a Kid This Summer!
In response to the social and economic impact of the pandemic, we are offering something great in 2021….
This summer, Sail Salem plans to invite 6–10 additional kids per week, to participate in our popular program of fun, sun, sailing, STEAM, and most importantly, friends.
We would like to offer much needed scholarships to the most impacted students in our community.
Included will be breakfast & lunch, round trip transportation to Winter Island, swim lessons and a backpack of food to take home on Friday.
Generous partners in this ambitious project are Salem Pantry, Root Food Service, Salem Public Schools, Salem YMCA and Salem Park and Rec Department.
Will you be a partner too? We can't do it without you.
Sail Salem navigated Covid waters in 2020 and will again in 2021. You can help us offer an educational sailing program to empower all kids - regardless of economic status - to develop independence, self-confidence, and communication while encouraging teamwork, community spirit and FUN, through the sport of sailing.
Kids are eager to get back to a more normal life and a more normal summer. We are committed to giving them that opportunity.
To get them there we need your help. Thank you!
Donate TodayDonate Today

Please use the "Donate" button or mail checks to:

Sail Salem, Inc. 23 Glendale Street, Salem, MA 01970.

Sail Salem, Inc is a 501(c)(3) nonprofit organization.